"YOU CAN ACHIEVE ANYTHING IF YOU SET YOUR MIND TO IT"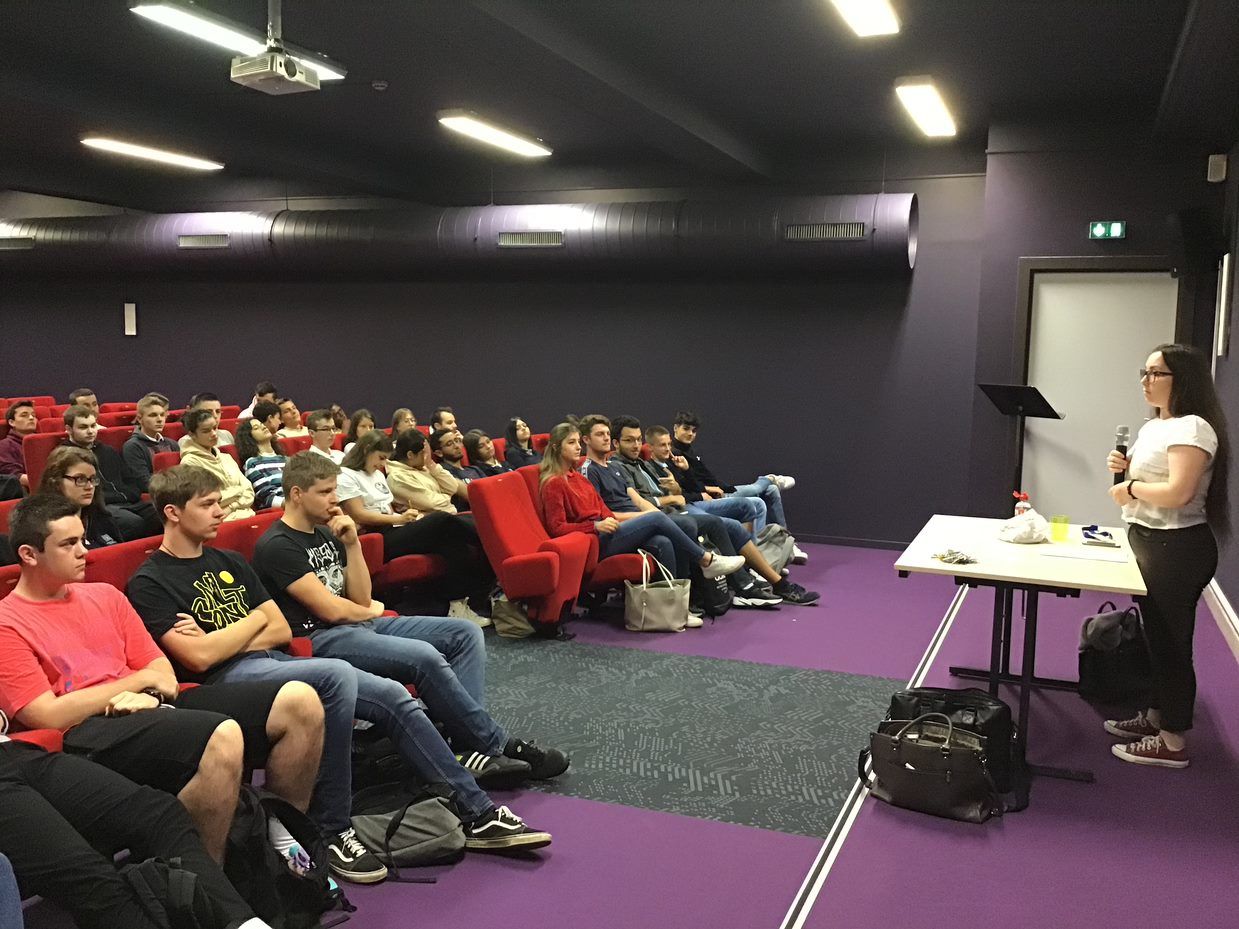 To kick off the new school year, Mrs. Helmer, French teacher, and Mrs. Schmitt, English teacher, invited Miss Mélanie Devanlay to talk to the senior and junior classes of our school. On Thursday, September 5, 2019 Mélanie, a former student of the Séminaire de Jeunes, gave a speech in English in which she shared her university experiences in France as well as abroad.
Mélanie passed her BAC ES, with honors. She then completed 2 years of undergraduate studies at the Faculty of Law in Strasbourg. There, Mélanie learned some harsh lessons. At first, she felt like a robot or a number among hundreds of other students. And she didn't like it when certain professors made fun of the students because they considered themselves so bright and learned. Above all, she had to figure out how to cope with failure despite hard work. "Believe me, sooner or later everyone fails. So what? Deal with it! Grow from it!" She also explained how her years at university taught her the importance of treating yourself with kindness rather than adding extra pressure. "Sometimes overworking doesn't get you anywhere". For her third year, Mélanie applied for the Erasmus program and luckily enough, her results allowed her to continue her studies in Dublin, Ireland, where a whole new world was awaiting her. She drew positive aspects from her studies abroad such as being far from "annoying parents" (of course they mean well) and actually, discovering that you will always need them. Now she was free to organize her life just the way she wanted, and she did. Moreover, she was positively impressed by her professors' availability and willingness to give advice and she liked this more intimate Dublin campus atmosphere a lot. On the downside, adapting to a new country, studying in a foreign language and working alone were not always easy. In a nutshell, Mélanie wanted to send us a message: "You have to believe in anything that happens to you, and if you fail at some point – it happens to everyone – it is not a big deal". A few days after her visit, Mélanie took off for Glasgow, Scotland, where she is starting her Master's degree in business and management.
By Aylin Armagan, Julie Esch, Line Metz, Chloé Schmitt and Marie Schupp. (SECTION EURO TERMINALES)
Merci à Mme Schmitt pour le retour .
Pour être informé des derniers articles, inscrivez vous :