Des élèves de la première Euro anglais ont participé en fin de semaine dernière au forum AFS "s'engager pour la paix " tout comme les 3 autres correspondants AFS. Au programme du vendredi il y avait le parlement avec ateliers en anglais. Samedi dans le Haut-Rhin les élèves ont assisté à la Commémoration au Hartmannswillerkopf...
Les participants :
PIERRE MAXIME ANSELM
MARC KAYSER
AYLIN ARMAGAN
GIOVANNI MARTIN
CHARLOTTE BARDOL
LINE METZ
JULIE ESCH
EMILIE MISCHEL
LUCAS HUTT
MARIE SCHUPP
THOMAS JACQUOT
CLEMENT SOMMERLAD
DAVY JAUTZY
LOIC TWAHIRWA-FUCHS
TELL NITCHOT
Merci à Mme Schmitt et Mme Pointereau (photo) pour le retour...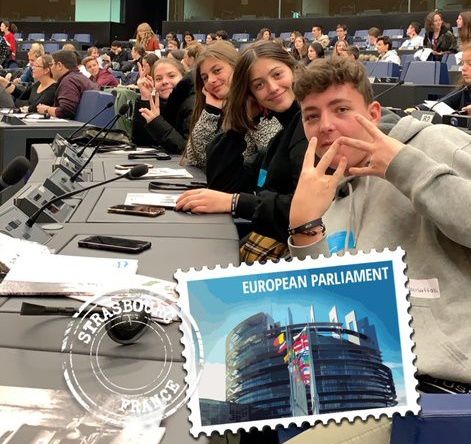 From the 8th to the 11th November, 14 English Euro Section juniors took part in an AFS forum entitled "ENGAGING FOR PEACE" Wanna know more? Here are some of their favorite moments:
"Friday, we went to the European parliament in Strasbourg. In the morning, we listened to several speeches about peace in Europe. In the afternoon, we were with the class, and we had to find a project that we could really carry out in the future. So, we decided that we could create a song about racism and discrimination, and we would try to film a clip in another country. Finally, we visited the 'Hemicycle' and then we went back to Walbourg where we spent a very funny evening."
"My favorite moment was Saturday morning when we went to Colmar. We were in a group of people from all around the world and we discussed the different problems in our countries. I was in a group with two German students and one from the Czech Republic, and they explained to us which problems their countries were coping with. It was so interesting."
Emilie Mischel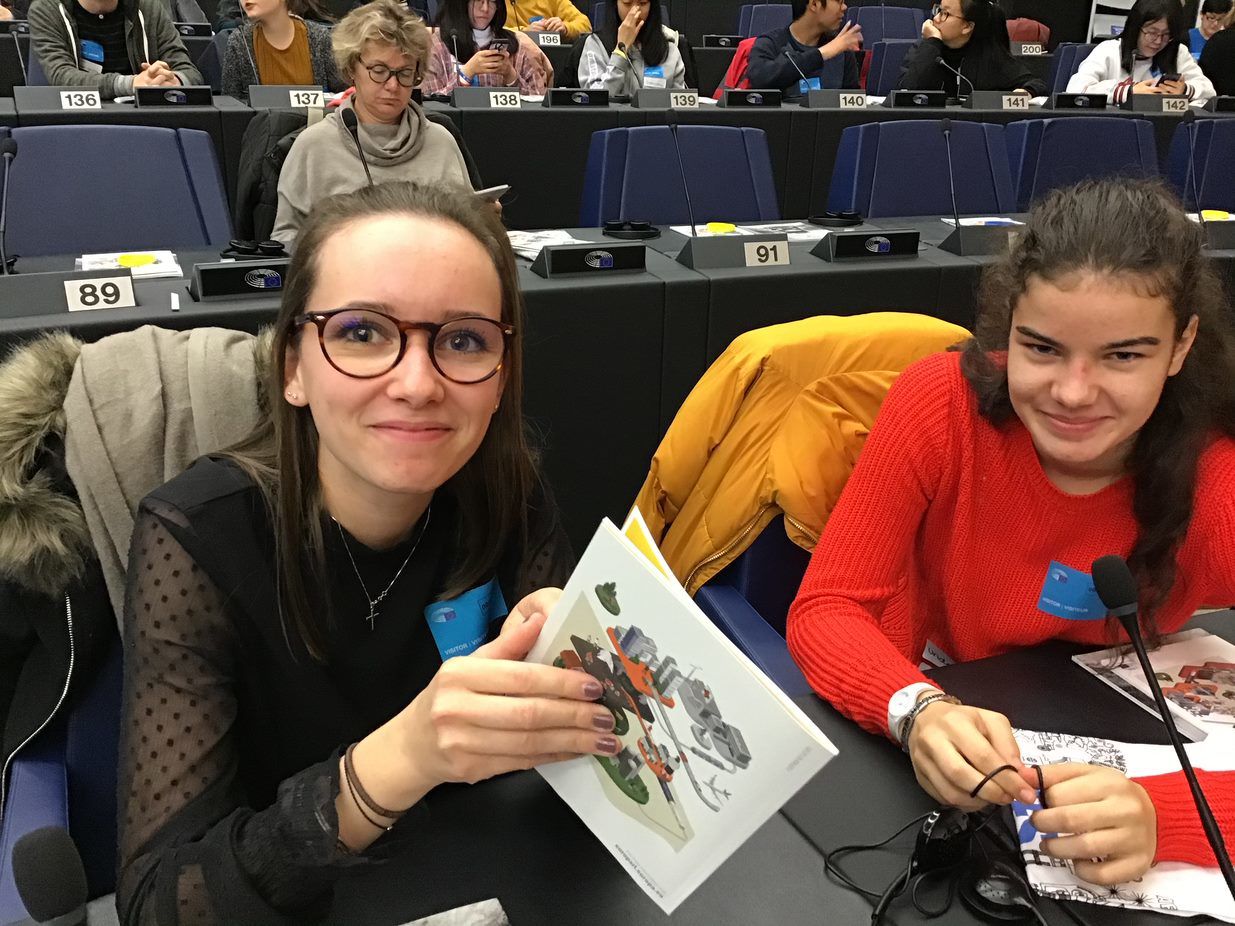 "My favorite moment was when I spoke in front of 200 people. It was really stressful, but I felt really passionate about it. It was a very interesting experience. If I could do it again, I would!
My second favorite moment was when Julie and I spoke to two Russian girls in Colmar. They come from Moscow, but they attend school in Germany where they are in a boarding school. They only go back to Russia for the holidays. They taught us a little bit of Russian.
My third favorite moment was when I was in a group with Bolivian, Italian, Egyptian, Russian, American, and French girls. We explained the political situations of our countries to each other. We talked about the extreme right in Italy, Macron, the situation in Bolivia, the situation in Bosnia, and the political cheating in Russia. It was very interesting."
Schupp Marie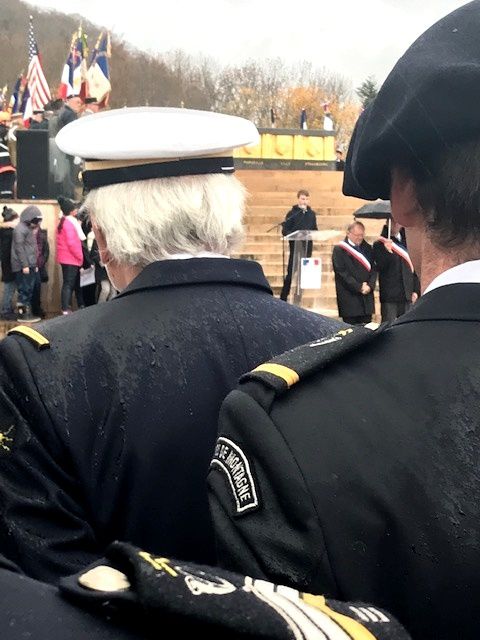 "My favorite moment was giving the speech at Hartmannswillerkopf. I enjoyed the rush of adrenaline as I was speaking. With public speaking, I get better every time I perform. It is something I suggest everyone should practice.
I always enjoy getting to speak with foreigners. This weekend, I talked with more foreigners than probably ever before. I love seeing how people see things differently in their culture. That was my favorite part about the entire weekend.
The most interesting part had to be hearing people explain their problems in their culture. I think it is very interesting because I believe every culture has its own problems."
Max Anderson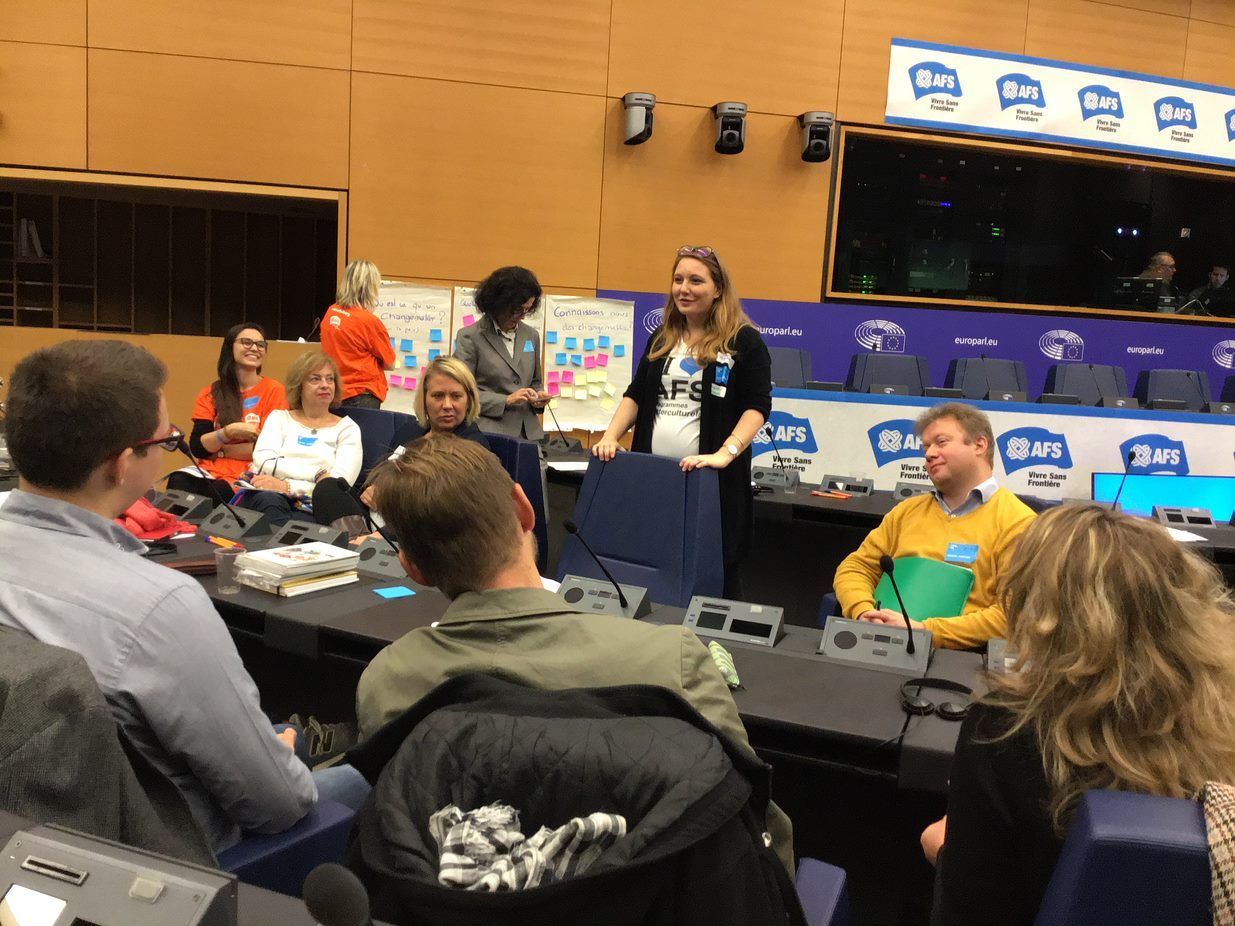 "We had a very good weekend and shared a lot of nice moments. It was most interesting to talk about the different high schools with other people from different countries. It was also captivating to talk about our high schools and how they are different with people from other countries. On Friday, it was cool to ask questions at the parliament, and the lunch was so good. After that, we reflected on a project to denounce discrimination. My favorite moment was Saturday morning when we shared our opinions with people from America, Norway, China, Belgium, and Australia."
Pierre Maxime Anselm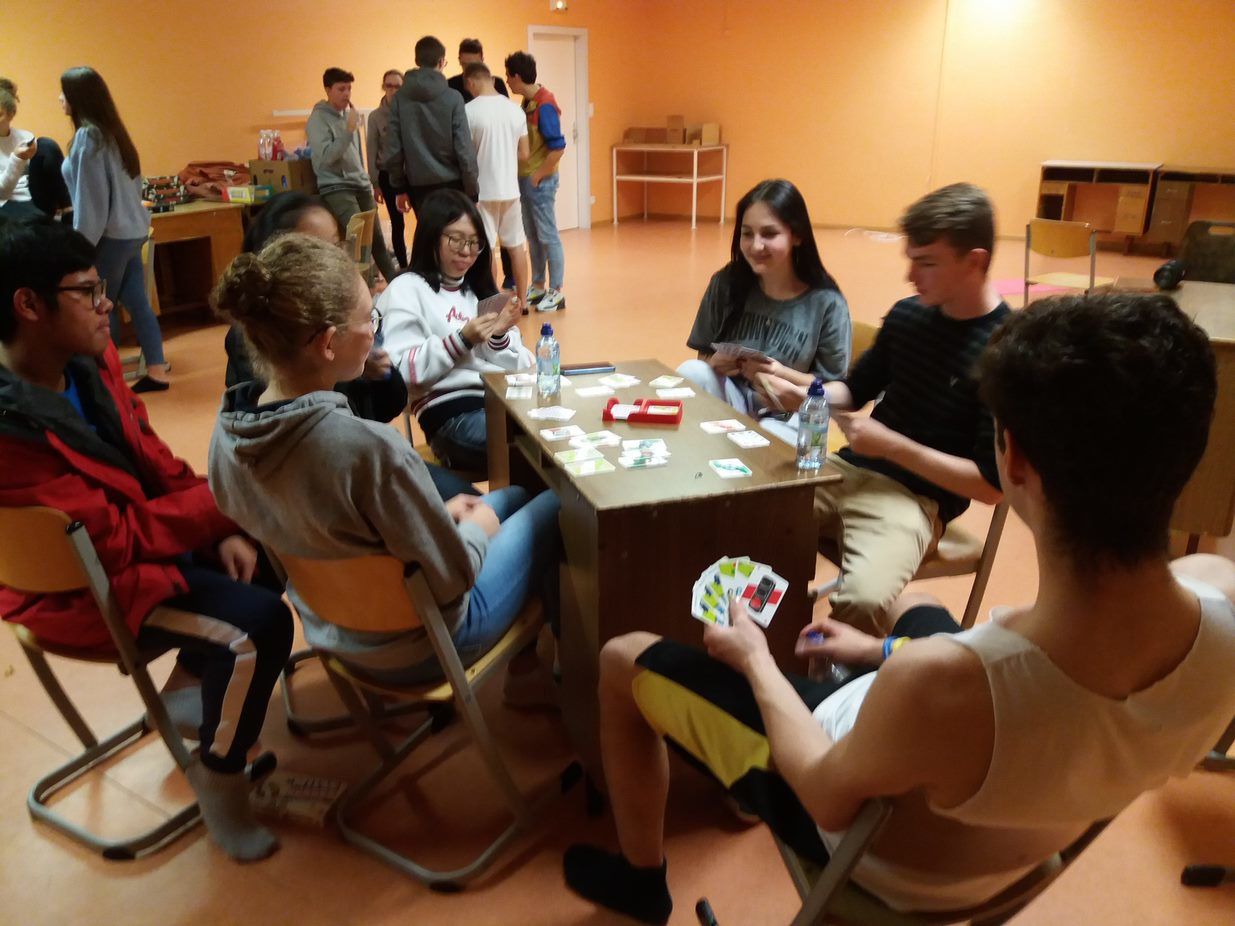 "I think my favorite moment was when I organized and administrated the Friday night event. We played musical chairs, cards, board games, and we talked about all sorts of things: our schools, our teachers...
In my eyes, the funniest moment was when we were invited to describe Walbourg during a workshop at the European Parliament.
The most interesting moment was when we talked about peace in the world with AFS because it's their main topic. We talked in English with many people to find out what peace actually means to each of us."
Giovani Martin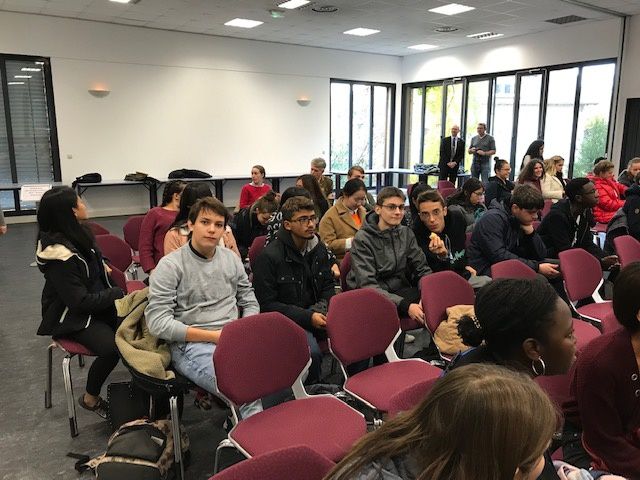 "At the European parliament on Friday morning and afternoon, we were able to talk English with same-aged people to share our points of view and try to find solutions to some world issues.
On Saturday at the Hartmannswillerkopf, which is a beautiful place commemorating WW1, it was very cold and windy. I almost froze to death!"
Marc Kayser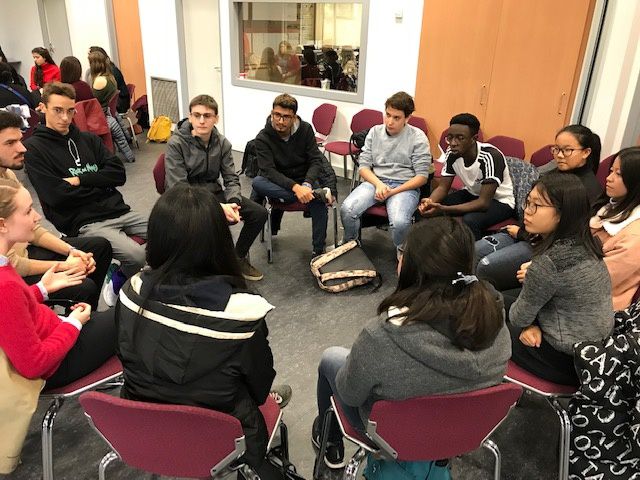 "The best moment of this forum was Friday morning when we participated in several workshops. We talked about our school with other high school students from different cities and countries, such as Roanne, Epinal, Offenburg. They laughed when I told them that we live with cows at Walbourg. I met some extraordinary people and I spent some great moments."
Charlotte Bardol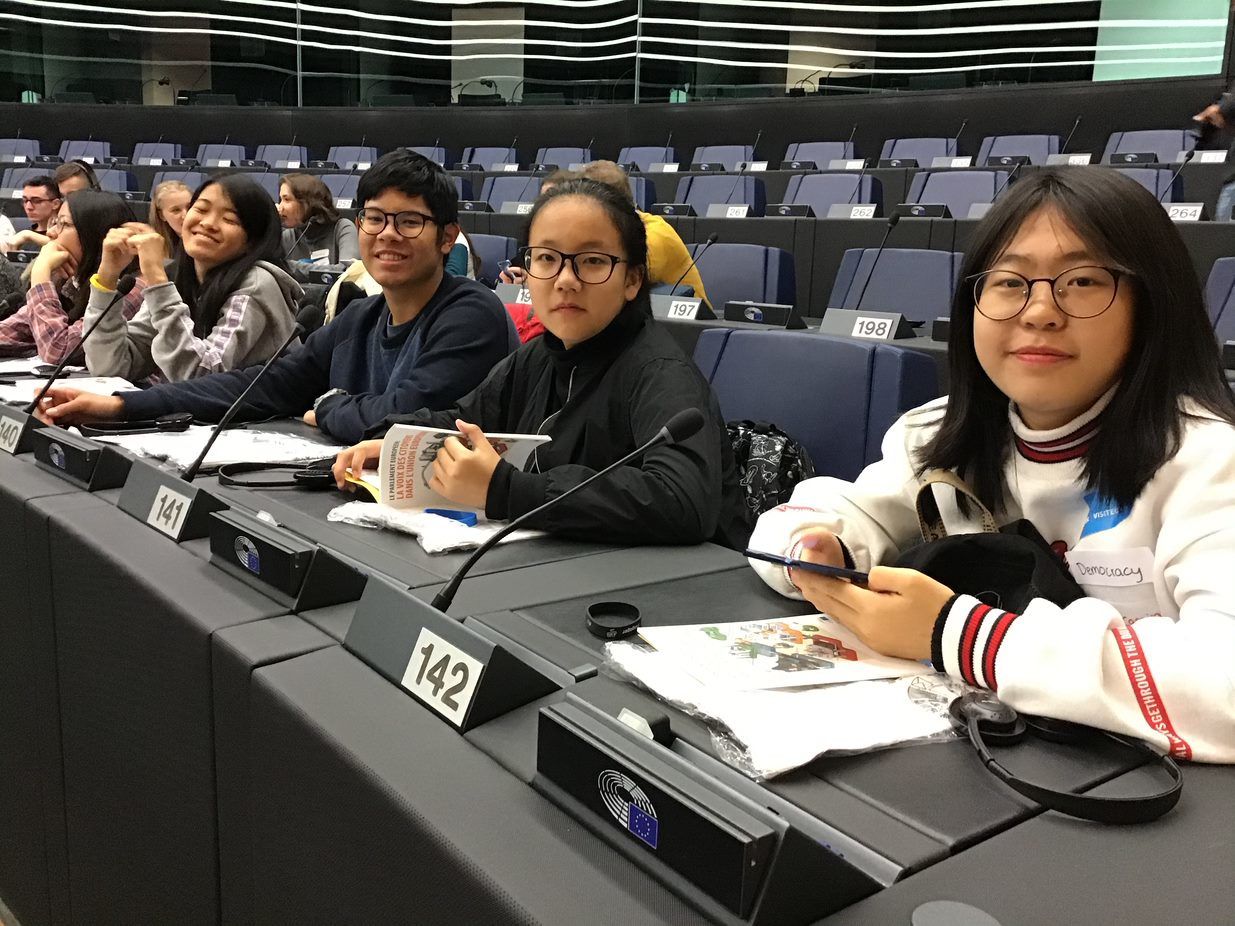 "My favorite moment was when we spoke with all the girls in our little group Saturday morning. It was really interesting to learn about different countries having different political ways of doing things. I learned how difficult the situation is right now in Bolivia and Italy, and how comfortable it is to live in Iceland. Marie and I also spoke with two Russian girls who live and go to school in Germany. They were pretty cool and funny; it was a great moment.
On Friday morning, it was also cool when we were in groups with different people from different schools, and we had to find solutions for our schools.
I also think the song project is great, even if everything has yet to be done. I believe it's a good idea and opportunity to travel a little."
Julie Esch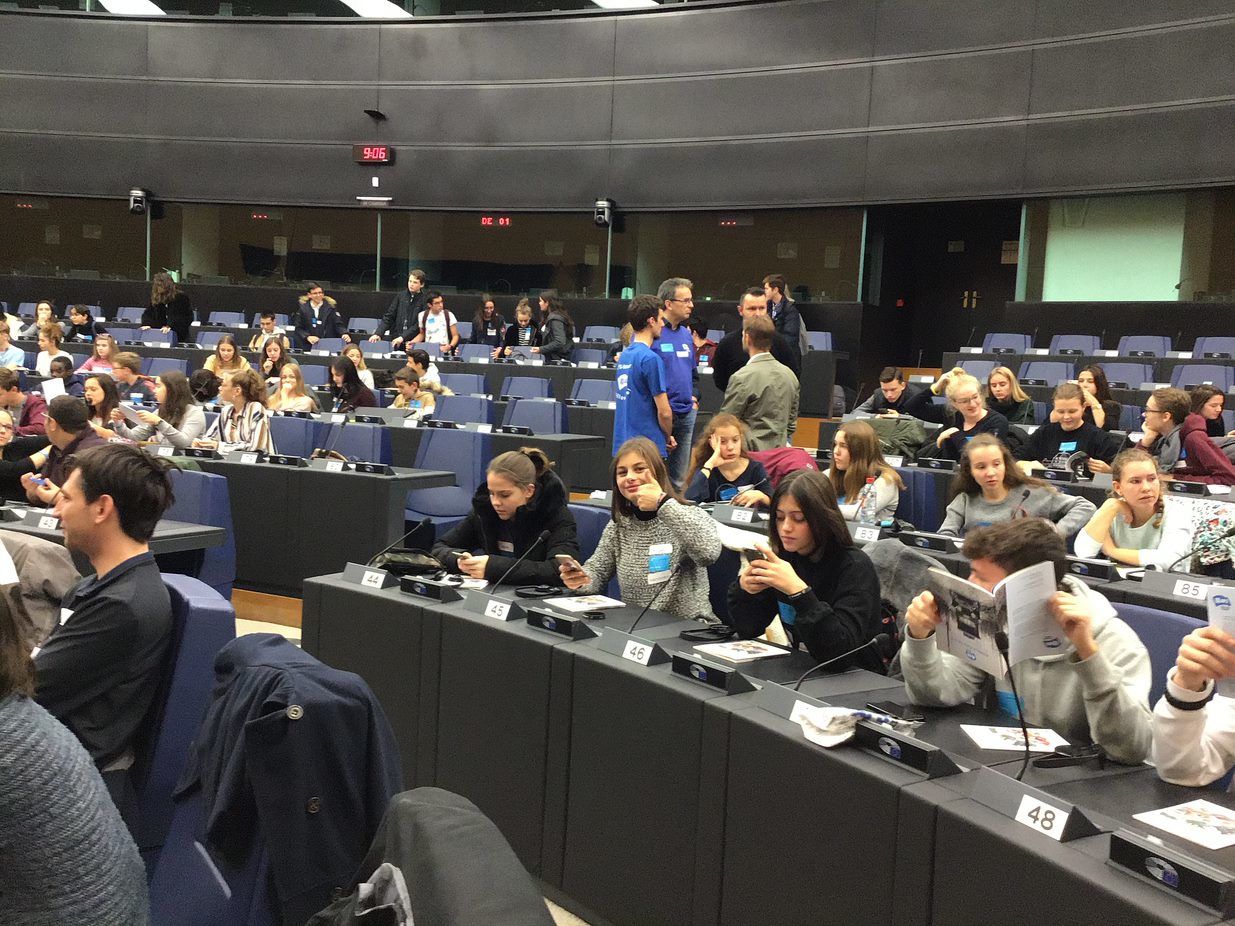 "At the parliament on Friday afternoon, I think my favorite moment was when we worked together as a class on the problems surrounding us, and we chose my idea to develop our project.
In Colmar on Saturday morning, it was particularly interesting to talk to and to listen to other students because they came from different countries. I was very lucky too because my guest student was very nice, and she spoke very good French."
Aylin Armagan

"My favorite moment was most certainly Friday; we spent the whole day at the parliament. We spoke about our neighborhood, and we needed to select some problems and reflect on how to solve them. In the end, we chose racism and we decided to make a clip against it. It was Aylin's idea. At the end of the day, we went back to Walbourg with our foreign guests, and spent the evening playing, chatting and eating candy. When we went to bed, we were really tired.
Jacquot Thomas